Robot vacuum cleaners have become an integral part of our everyday life. So, having once heard about these super assistants, I started dreaming about getting one. But did I buy it? No. Why? Because of a popular belief
that robots can be either extremely expensive like Roombas or inefficient like many Chinese models.
Much later, a thorough model analysis refuted my thoughts when I came across the exquisite Roborock brand. Its two robots out of two I had showed me unique performance and adequate price. They were Roborock S4 and Roborock S5.
In this Roborock S4 vs. S5 comparison, I'd like to share my user's experience with you. Today, I'm going to tell you about their strong and weak points I managed to find. Stay with me to get a real user's feedback!
Main Differences Between the Models
Roborock S5 is an improved version of the Roborock S4 vacuum. Nevertheless, though the models share a lot of features, they significantly differ in the following moments:

Roborock S4 is designed for dry cleaning only. Roborock S5 got a great improvement since it can perform both dry vacuuming and mopping.
Roborock S5 is the only vacuum of the comparison that features Carpet Boost technology.
In general, the S5 is a better model for the pile. It has bigger wheels and climbing capability.
Cleaners have different dustbin capacities. The older generation uses a 420 ml bin, while the younger robot can contain 480 ml of debris.
Roborock S5 became more lightweight compared with its predecessor. The S4 weighs 14.4 pounds, and the S5 weighs 7.7 pounds.
Roborock S4


When I first heard about Roborock, the brand was releasing its Roborock S4 robot vacuum. Advertising campaign and seductive price did their job. Thus, after several years of doubts about robotic cleaners, I became the owner of this smart device.
The first purchase didn't disappoint me. So, what did I get?
First of all, let's take a look at its cleaning performance. The vacuum came with one side brush and one anti-tangle floating main brush. Its design that combines wavy silicone blades and bristles were supposed to pick up all types of pollution and adjust to the surface height for better contact. The truth is that for two years of active usage, I faced no problems with dirt collection on any surface.
Brushes rotate at high speed and sweep the dirt into a suction port. Several cleaning modes provide a gradual increase of the suction up to 2000 Pa. This power was enough to deal with my medium-piled carpet. But though suction was great, I should admit that the vac regularly got stuck on the pile. I didn't manage to find out why, but rescue operations were a frequent thing in my case.
The lack of the Carpet Boost is another significant drawback for a device of such a high level. Thick pile can become a problem. Also, 420 ml dustbin seemed too small for me. When my robot faced hair and massive debris, I had to stop the cleaning and empty the bin a couple of times.
The S4 model is equipped with a HEPA filter. Since I have two cats, for me, additional filtration proved its efficiency.
I'd also like to highlight the run time. My device had a 5200mAh battery that provided 150 minutes on Quiet mode. For about two years of usage, I have never faced a problem of discharging. Even on Max mode, my Roborock S4 was able to clean the whole apartment without interrupting.
So, the last moments to describe are navigation and control. The model fully justifies its smart name. Navigation is based on laser, sensors, and mapping technology. While many robots still use random cleaning, this feature made the operation much faster and more thorough. App, voice control, scheduling, selective room cleaning, virtual no-go zones, and other settings made my life significantly more comfortable. However, we'll discuss it later in detail.
So, despite several shortcomings, I can say that Roborock S4 is an excellent cleaning device. For the price slightly over $300, it provides incomparable cleaning and a bunch of innovative features.
Pros:

compact design
efficient central roller with height adjustment function
several cleaning modes
high 2000 Pa suction
HEPA filtration
150 minutes of run time
Smart Laser navigation
mapping
app and voice assistance
No-Go zones
Selective cleaning
affordable price
Cons:

no Carpet Boost
can have difficulties with vacuuming thick carpets
gets stuck on carpets
small dustbin
Roborock S5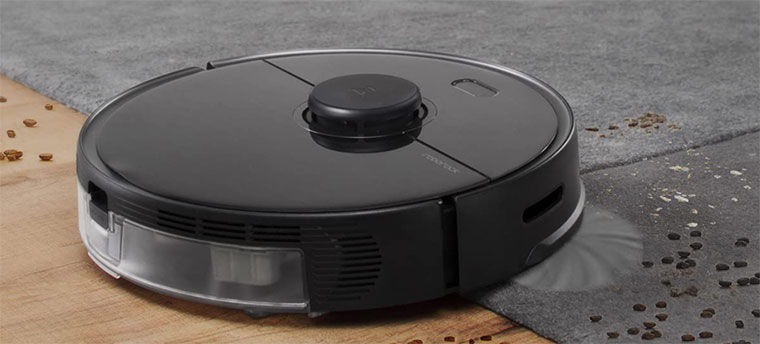 After moving into a house, I started looking for a new robot. By that time, Roborock has released its brand new flagship Roborock S5. Though being very similar to the S4, it received a unique mopping function and improved mapping.
Since the brush system of the previous model was perfect, the manufacturer justly left it unchanged. Once again, we have a side brush for cleaning in corners and along walls, one central combined roller with auto-adjustment to the surface height, and a suction port. Suction power also reaches 2000 Pa.
However, this time, Roborock added excellent Carpet Boosting for better performance on carpets. Now, thick carpet cleaning caused no problems. Besides, the driving system and wheels were significantly enlarged. According to the official site, Roborock S5 can surpass small elevations of up to 0.8 inches or 20 cm. The previous Roborock S4 was able to cope with 0.6in/15 cm obstacles. For the last 5 months of usage, my cleaner got stuck only twice, which I consider a real win.
The battery and filtration stayed unchanged too. The model works with a 5200 mAh battery for 150 minutes and performs HEPA air filtration.
Let me also note that after purchasing this flagship, I could continue enjoying WiFi connection, app and voice control, Selected room cleaning, and No-Go zones. Moreover, now I can schedule not only days of cleaning but also the mode I prefer this day.
«What was the point of buying absolutely the same robot vacuum for more money?» you may ask me. And here is where the best part of the description starts.
Roborock S5 features identical Laser navigation with mapping. But the latter technology can now save bigger maps for shorter period, which makes the vac a nice model for multi-story houses.
The second good discovery is the presence of mopping. Roborock S5 is actually 2 robots in one case that can perform dry vacuuming and wet cleaning. All I need is to replace an enlarged 480 ml dustbin with a 140 ml water tank, set a mop pad, and start the robot.
By now, I have had some time to see how this robot works in a multi-story house, and I can say that I'm quite satisfied. The majority of Roborock S5 features coincide with the characteristics of the S4 bot, but those several updates are absolutely worth extra bucks.
Pros:

compact design
dual dry and wet cleaning
efficient central roller with height adjustment function
jam-resistant wheels
several cleaning modes
Carpet Boost
2000 Pa suction
HEPA filtration
150 minutes of run time
Smart Laser navigation
improved mapping
app and voice assistance
No-Go zones
Selective cleaning
Cons:

though enlarged, the dustbin stayed too small for me
sometimes the app is failing
not a budget option since it costs about $500-$550
Now, when you got a short description of the robots and their strong/weak sides, it's time to perform a detailed comparison of the devices.
Design and Dimensions
Speaking about the design, I should note that both models look 100% identically. They feature classic round bodies made of durable plastic. In the first case, Roborock S4 comes only in black color. Customers of Roborock S5 can choose between black and white options. On the top panel, one can see a puck-like laser base.
You won't find any differences in the dimensions of the vacs, either. Thus, both robots are compact enough to pass under low furniture and between stool legs. They measure 13.8″ x 13.7″, and the height together with a working laser form 3.8 inches.
However, when it comes to weight, Roborock S5 offers the twice lighter body. While the S4 robot weighs 14.42 pounds, the S5 weighs 7.72 pounds. In combination with an improved driving system, a lightweight case provides much better passability.
Verdict: Though there are almost no differences between the models in terms of design, I found out that a more lightweight Roborock S5 can perform better cleaning, especially on the thick pile and hard-to-reach places. That's why it is my favorite here.
Navigation
Both models possess perfect navigation systems. Aside from anti-collision and cliff sensors, they use laser and mapping technologies as well as virtual limiters.
First of all, the main navigation is based on a laser that turns on and scans the room. Later, the data transform into a map, which is displayed on your app. The map can be used both by the robot for navigation and route planning and by yourself for settings. For example, you can set No-Go lines and Selective cleaning.
No-Go lines mean the same virtual walls but in the digital configuration, when you just draw lines wherever you want and in any quantity and shape you want.
Selective cleaning allows you to name the rooms of your dwelling and tell the cleaner where it should or shouldn't work.
As I have mentioned before, I love the navigation of both models. Still, Roborock S5 impressed me more with its mapping. It gives me the opportunity to save a map faster, which is necessary when cleaning different floors.
Verdict: Despite my preference towards the younger vacuum cleaner, Roborock S4 isn't inferior to it. I think both vacuums offer exquisite navigation for different purposes. Both owners of multi-story private houses and flats will find the mapping extremely useful. I was absolutely satisfied with the S4 and the S5 navigation.
Dirt Detection
Dirt Detection is a quite useful function, thanks to which your robot vacuum cleaner can find and determine the most polluted areas. Consequently, it makes much more effort to eliminate dirt, i.e., it provides higher suction, brushes rotation, and passes the area several times.
If you are already dreaming of this technology, please forget it. Neither the first nor the second Roborock supports Dirt Detection.
Verdict: It's clear that we don't have a winner here. Still, I never felt that cleaning was worthier without this function. In my opinion, laser navigation and 2000 Pa suction partly recompense the lack of Dirt Detection.
Filter System
Air filtration became an obligatory feature of all vacuums. My models also provide an air purification system, which is called HEPA. HEPA filters trap over 99.7% of particles up to 0.3 microns. Thus, you can be sure your vac will neutralize fine dirt, dust, bacteria, and allergic particles produced by plants, animals, dust mites, etc.
I'm lucky to have no allergies. However, I'm also lucky enough to be a happy parent of two fluffy cats. After almost two and a half years of robot vacuum usage, neither my pets nor I faced any problems with the respiratory system.
Verdict: I certainly recommend both Roborock vacuums of the S series to families with small kids, pets, allergic people, asthmatics, and people with chronic respiratory diseases. Robot cleaners won't save you from possible attacks, but they can prevent any problems and significantly relieve respiration.
Connectivity
Here, we have no differences between robots. Roborocks are called smart assistants thanks to their WiFi connectivity features.
Thus, both devices can be controlled via:

mechanical ON/OFF, Recharge/Home buttons (Roborock S5 also has Spot Cleaning button);
Mi Home mobile app;
voice assistants like Google or Alexa;
While buttons provide limited control options, the app is a perfect control tool. Here, users can set a schedule, cleaning mode, rooms to clean, No-Go lines, as well as watch the map, get maintenance notifications, and run your robot remotely from any place in the world.
Verdict: Partly, I didn't dare to buy a robot vacuum because of their smart features. Usually, cleaners with such wide control options and WiFi connection cost much more than $350. However, the purchasing of Roborock S vacs gave me all these characteristics for quite affordable money. Though sometimes I have problems with the app designed mostly for Asian users, I can still recommend both cleaners.
Suction Power
I'd like to unite several performance features in this suction power paragraph. Firstly, let me show you similar sides.
All Roborock vacuums, including mine, work on any coatings like linoleum, laminate, wooden floor, tile, rugs, and carpets. Maximum suction of the S4 and the S5 is extreme 2000 Pa. To make it clear for you, let me note that the majority of modern vacuums do not exceed 1500 – 1700 Pa.
To save the charge and apply the adequate cleaning means, cleaners come with the following modes:

Quiet mode;
Balanced mode;
Turbo mode;
Max mode;
Consequently, the more intensive mode, the greater suction. Brush systems are the same too.
These are all performance characteristics of the S4 cleaner. But Roborock S5 has some more features to boast.
Apart from these four modes, the younger vacuum uses one more setting called Carpet Boost. This technology helps the robot automatically understand when it comes to carpeted areas and increase suction.
Also, I consider mopping to be one of the greatest improvements. Frankly speaking, I heard a lot about mopping robots, and all gossips were unflattering. Users state that 2-in-1 cleaners cannot provide proper wet operation and just smudge dirt instead of eliminating it. Nevertheless, despite some prejudice, I gave it a chance. Roborock S5 uses a water tank and a mop pad. It gradually wets the pad and then wipes the floor. Thanks to proper wetting and high-quality fiber pad, the dirt is collected without spots and stains.
Verdict: Roborock S4 offers excellent suction and cleaning performance. It will be a great choice for those who don't need or believe in robotic wet mopping as I used to before. In my opinion, a more expensive flagship is worth its money and can be more efficient on both the hard and carpeted floors.
Run Time
When I was looking for a robot cleaner, I paid special attention to run time characteristics. A lot of modern models go discharged already after 30-60 minutes of cleaning. And since recharging always takes at least 3 hours, no one wants to spend the whole day on one cleaning session.
The S series robots come with 5200 mAh Li-ion batteries. This unique capacity provides up to 150 minutes of cleaning in Quiet mode. By the way, please always keep in mind that manufacturers give run time data in the weakest mode they have. Thus, the S4 and S5 bots work for 150 minutes, but Turbo, Max, and Carpet Boost settings will spend the charge twice or even thrice faster. Still, the batteries are big enough to guarantee over 75-80 minutes of vacuuming in the most powerful modes.
Also, it turned out for me that the mopping function consumes a lot of energy. So, when I use my Roborock S5 as a mop, it lasts for about one hour. Surely, I'd it to run all 150 minutes, but it does an excellent job even within so shortened period.
The final plus I love is Recharge and Resume function of the robots. They can automatically identify the low charge, interrupt cleaning, come to the base, and later continue cleaning right from the place they stopped.
Verdict: Roborocks offer absolutely equal and amazing run time that pleases me even in thrice shortened form. Recharge and Resume only reinforces this impression.
Dustbin Indicator
Dustbin capacity isn't the greatest but one of the essential differences between the models. Roborock S4 contains up to 420 ml of debris. Roborock S5 got a bit improved bin for 480 ml.
Let me tell you right now that I don't like both dustbins. Against the background of other features and robot models of the same level, I believed that dustbins should hold much more dirt. Still, less than 500 ml containers often make me interrupt the cleaning to empty them.
Moreover, none of the cleaners uses Full Bin Indicator. This small element that automatically identifies the quantity of dirt and informs you when it's full could save me many minutes of useless monitoring.
Though this part is dedicated to dustbins, Roborock S5 has one more container. I mean a water tank for mopping. The tank is made for 140 ml of water. At first, I was disappointed. But practice showed that even water dispersion adequately distributes these 140 milliliters for the whole mopping session.
Verdict: Unfortunately, no one can be perfect. Neither are our Roborocks. I have to admit that dustbins are their weakest points. However, I can give my preference to the S5 model as it offers a slightly bigger bin and one additional efficient water tank.
Noise
The S4 and the S5 can be called fairly quiet vacuum cleaners, as their noise levels vary depending on the selected cleaning mode but never exceed 68 decibels. In Quiet mode, they produce no more than 60 decibels. I'm a light sleeper, but I often set night cleaning schedules. By now, none of my vacs woke me up when vacuuming the next room.
Verdict: Here, I have no favorites. The noise level feels quite comfortable during the day as well as at night. So, if you have small children or shy pets, these vacuums are for you.
Accessories
Apart from the vacuums themselves, customers also get the following accessories:
Roborock S4

an extra filter
a charging dock
an adapter
a cleaning tool
one manual
one-year warranty
Roborock S5

a charging dock
an adapter
a cleaning tool
pair of water tank filters
a water tank
two mopping pads
one manual
one-year warranty
Verdict: The latter vacuum offers more accessories, but most of them are connected with its mopping function. Still, unlike Roborock S4, it lacks an additional HEPA filter.
Tests on different types of floors
For the last years, I figured out that both Roborocks perform excellent cleaning on almost any surfaces. To prove it one more time, let's take different floors and pollutions. I decided to see how my vacuums will cope with sugar, cereal, and pet hair on laminate, tile, and carpets.
Sugar
The combination of hard floors and fine dirt like sugar or sand provoked no difficulties. In both cases, it was enough for robots to pass laminate and tile only once to collect 100% of particles. Even tile seams were thoroughly processed and cleaned.
When it comes to fine dirt in the pile, cleaning becomes more complicated. Deep and light debris requires much more suction and brush rotation. So, I set Roborock S4 in Max mode, while for Roborock S5, I chose Carpet Boost. Both vacs needed two passes to lift a maximum of the pollution. Sugar wasn't seen with the naked eye, but weighing showed they collected about 90% of the dirt.
Cereal
Cereal is large debris. As a rule, such pollutions mostly depend on brush systems than on suction. As both robots use the same side and central brushes, cereal on the tile and laminate were collected after the first passage.
However, large debris on carpets sometimes becomes even more challenging pollution than fine dirt. Their greater weight and awkward shape caused a kind of difficulty, but after two passes, all particles were eliminated. Still, the combination of the pile and large dirt provoked a jam of my Roborock S4. So, even though both robots collected 100% of pollution, Roborock S5 did it slightly faster.
Pet Hair
I always believed hair to be the most complicated pollution. Hair tangles and clings to the surface and brushes, so here, robots need extra power. The design of the central rollers allowed the S models to collect all hair from hard floors.
When I tried the same pollution on carpets, I set the Max and Carpet modes. Roborock S4 collected about 85% of hair but got stuck once again. Roborock S5 passed the pile without jams, and Carpet Boost seemed to help it cope with hair a bit faster. It picked up almost 90% of hair.
Verdict: All vacuums provide 100% result on hard floors even when they have seams and recesses. Carpet cleaning is a bit more challenging task. Roborock S4 faced it with dignity. So, despite jams, it collected almost all pollutions (both fine and large) on all surfaces. Roborock S5 is my favorite here. Its improved wheels and Carpet boosting allowed it to deal with carpets faster and better. So, if you have a lot of carpets and pets, you'd better choose the latter model.
Buyer's Guide – How to Choose the Best Robot Vacuum Cleaner?
Here are my personal tips on how to choose the most suitable robot vacuum cleaner for your house and requirements. Let's figure out what to pay attention to.
Type of Your Dwelling and Floors
Many customers read reviews and spend hundreds of bucks on the most powerful robots. However, if you live in a small apartment with primary hard floors, you don't really need extreme suction and Carpet Boost. Try a more budget option with 900-1300 Pa suction.
On the contrary, the owners of multi-story houses covered with carpets will have to pay more. Apart from high suction, you will also need smart navigation, scheduling, large dustbin, and so on.
Actually, this moment influences the choice of brush systems and modes too. Big houses with complicated floors usually need roller-extractor brushes and a wide range of modes.
Pets
The presence of fluffy pets in the family also can significantly change the choice of the robot vacuum. So, if you are a pet parent, look for models that are designed for hair cleaning.
Also, don't forget about capacious dustbins, since hair takes a lot of space. The practice showed that filtration is another crucial moment for pet hair cleaning: the better filtration, the fewer chances to get allergy.
Dry or Dry & Mop Cleaning
The majority of robot vacuums offer only dry cleaning. However, some models combine vacuuming with wet cleaning. This mopping mode will contribute to the dwellings with hard floors. Those who want a 2-in-1 robot should pay attention to water tank capacity, water dispersion, and quality of pads.
But please mind that most mopping cleaners cannot avoid carpets in mopping mode. That's why if you have carpeted floors and are not ready to remove them each time, consider buying robots for dry cleaning only.
Run Time
A powerful battery means longer cleaning without interruptions. That's why I recommend you to choose durable robots. If you need a powerful vac, the battery should provide enough energy to maintain its high suction and cleaning modes.
Besides, run time is especially important as recharging takes much more time compared with cleaning.
Finally, if the robot has Recharge and Resume function, it's a great deal to take.
Virtual Walls and Other Accessories
Always pay attention to the kit of your robot. Apart from the device itself, you can also get additional filters, cleaning tools, replaceable brushes, and virtual limiters.
A wide kit will allow you to save a lot later on the maintenance. And virtual walls improve navigation and cleaning. These function helps limit the cleaning area to locations where it is undesirable (for example, near bowls or the animal itself, if it's afraid of the device).
Frequently Asked Questions
How to empty Roborock S4 and S5 robots?
Dustbins of both vacuums have the same design and location. Take your model and look at the side with the air vent. This is the outside of the dustbin. Gently pull it and remove the bin.
Then open the lid and throw the dirt. Pour water into the dustbin, close the dustbin cover, shake it to remove all dirt particles left and rinse the built-in filter. Then pour out the dirty water.
Please make sure the bin and filter are dry before putting them back into the case.
How often should I replace filters on Roborock S4 and S5?
Roborock S4 offers an additional HEPA filter. Roborock S5 owners will have to buy it separately on the official site or Amazon. Anyway, the manufacturer recommends to clean filters after each usage and replace them once per 1-3 months, depending on how often you run your robot.
How to connect Roborock S4 and S5 to a smartphone?
Both robots are compatible with the Mi Home smartphone application. Please download the app from the App Store or Google Play to connect your robot and your phone. Then open the app, go to the "My Device" page, and tap "+" to add a new device. Find your model in the "My Device" list.
The WiFi indicator will start blinking slowly and then fast. It means that the device is waiting for a connection. When the light becomes stable, the connection is completed.
For more detailed information, please read the manual or contact the User Service.
Do Roborock S4 and S5 models support 5 GHz WiFi?
No, both robot vacuums work only with 2.4 GHz WiFi network.
Can I wash mopping pads of my Roborock S5 in the washing machine?
Roborock mopping pads require only manual washing without detergents. The manufacturer doesn't recommend using the washing machine as the fiber will be damaged.
Conclusion
According to my experience and opinion, both Roborock S vacuums are worth purchasing. I think I certainly got more than I paid for since other robot models with similar characteristics are much more expensive.
Roborock S4 showed itself an excellent vacuum for single-story dwellings with all types of surfaces. Though it gets stuck on carpets, I have never had any cleaning claims and love its combination of affordable price and smart control features.
Roborock S5 deals a bit better with carpets and also performs decent floor mopping. This cleaner is a worthy option for multi-floor houses. While the owners of small apartments may not need its extra functions, I found them quite useful for my cottage's daily cleaning.