I know you must be having a thermostat in your house but the elephant in the room is, how much energy does it save?
If you are using the regular thermostats, you are missing out a big deal. The modern home is now using Smart thermostats that cut down energy bills by great margins. If you also want the same, you've come to the right place.
A thermostat is a device installed in homes to regulate the HVAC systems depending on the air temperature in the house. With the advancement of Smart technology, we now have very accurate and versatile thermostats that can be controlled a Smartphone. These are what we call Smart thermostats.
There's no conversation on Smart thermostats that end without the mention of Ecobee and Nest – the two most popular Smart thermostat brands. For this reason, we are going to focus on the two in this Nest vs. Ecobee review. So, without further ado, let's get straight to business.
Ecobee3 – Affordable and Reliable!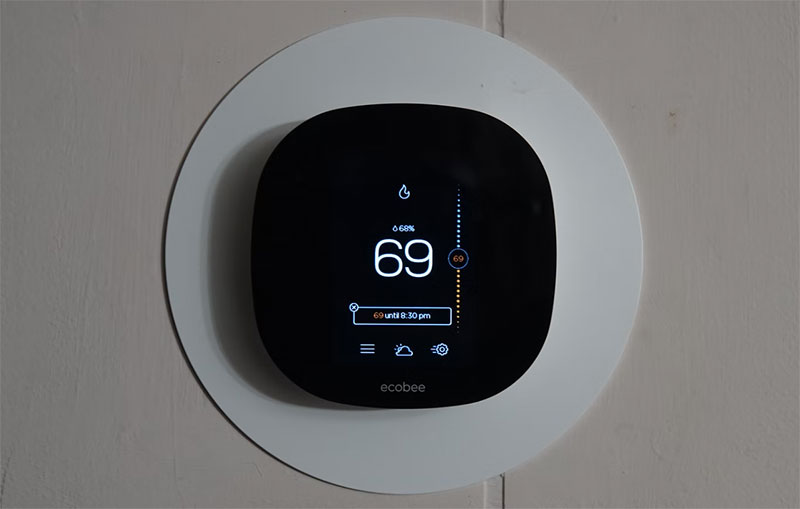 Even though it is an older model, I would recommend it to anyone looking for a cheaper option of the Ecobee4. As a matter of fact, the Ecobee has everything you need from a Smart thermostat; accuracy and convenience, only that it is now outdated with the coming of the Ecobee4.
Pros
Highly compatible
Remote sensors
Easy operation
Built-in humidifier
Ideal for homes with many rooms
Extended battery life (up to 35,000 hours)
Cons
No Smart Learning
Complex set up
To start, I must say the Ecobee3 is not as fancy as the Nest in terms of design. I also found it to be complex when it comes to installation. Fortunately for me, I am not that green I quickly installed it but for amateurs, working around the C Wire connection will be a hurdle. The good news is that Ecobee included a Power Extender Kit that is an alternative to the C wire. The bad news is that you will still be required to have some knowledge about your HVAC system. What I liked about this thermostat is the new touchscreen display that makes operation very easy and most importantly, guarantees accurate readings.
If you want a more accurate thermostat, you know very well Ecobee is the real deal. It features remote sensors that can be placed in different rooms for accurate temperature reading and consequently, the most appropriate HVAC calibration. This is a major selling point of this thermostat and puts it head on with the Nest 2nd Gen as well as the 3rd Gen even though the latter has improved room occupancy sensing. These remote sensors serve two purposes: checking room occupancy and giving accurate temperature readings of every room. Personally, I liked how it was able to detect whenever I was home or even when I came back out of my normal routine. From how it was marketed, I expected it to come with several remote sensors but unfortunately, only one has been included, same with the Ecobee4. The good thing is that you can use up to 32 of them (bought separately).
However, this thermostat doesn't have the Smart Learning Intelligence like the Nest. No matter for how long you use it, it will never be able to self-adjust itself depending on the previous data.
The best thing about this gadget is the remote operation via Smartphone App. If it's cold and you are about to get home, all you got to do is switch the heater on and set your preferred temperature right from your Smartphone, that's it! When it comes to connectivity, the Ecobee3 is well connected, unlike Nest that sidelines Apple users. I tried it out with Alexa, Apple HomeKit, SmartThings, Wink and even IFTTT. Even though the original Ecobee displayed weather on the homepage, you need to move to a different screen on this thermostat.
If you have many rooms and you are on a budget, the Ecobee3 is a great option. It is cheaper than the Ecobee4 and the Nest. Besides the difference in price, it offers almost the same performance as the Ecobee4 and is better for those with many rooms, unlike the Nest.
Ecobee4 – Superb Choice for Multirooms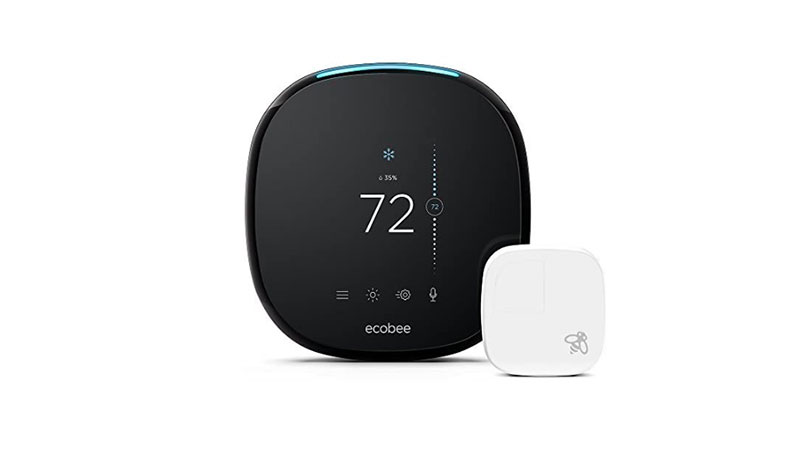 The Ecobee4 is the latest Smart thermostat from Ecobee and competes favorably with Nest. This Smart thermostat has several tweaks that make it superior to the predecessor, the Ecobee3. If you have many rooms and you would like a more intuitive Smart thermostat, you should seal the deal with the Ecobee4 courtesy of the room sensors and Alexa and Apple HomeKit compatibility.
Pros
HomeKit enabled
Remote sensors (up to 32)
Proximity sensor
Built-in Alexa
Comes with remote sensors
3 years warranty
Cons
No Smart Learning
Complex installation procedure
No local weather reading
This thermostat owes much of its design and features to the Ecobee3. From the criticism the Ecobee3 received regarding the complexity of its installation, I expected the Ecobee4 to be better. Unfortunately, it still requires the C-Wire. However, the much easier to deal with Power Extender Kit is still included. The display is a bit larger but from most customer reviews, its responsiveness tends to fade away quite fast. I also realized this but I thought the unresponsiveness was caused by humidity. The good thing is that it wakes up when you near it courtesy of the proximity sensor.
Just like the predecessor, this thermostat comes with one remote sensor that measures the temperature of a particular room and reports it accurately. Even though it comes with only one remote sensor included, you can use up to 32 of them. With this thermostat, I wanted finality about its accuracy so I tested it in this room next to my balcony which receives direct sunshine at around 3:00 pm. On the opposite side of the ground floor, I have my kitchen which at this time it's normally cold. I must commend Ecobee because I got varying temperature and humidity readings as expected.
I tried this experiment with other Smart thermostats like Lyric, Vine, and Honeywell but I wasn't so impressed. On the downside, it lacks the Learning feature. So, unlike the Nest that adapts to your previous temperature settings, the Ecobee4 only gives you what you set.
Regarding connectivity, I really liked the Ecobee4 because it supports Alexa and Apple HomeKit. You can actually talk to the Ecobee4 and it will surely respond. This makes it particularly great for people with mobility issues as well as the old.
The Ecobee4 is a great thermostat for those with many rooms and storeyed houses that have different temperatures on the different floors. The remote room sensors give accurate temperatures that are adjusted differently in every room depending on their temperature. Besides, the voice-activated control makes it a great buy for those with mobility issues like the old.
Nest Learning – The Smart and Intelligent Learner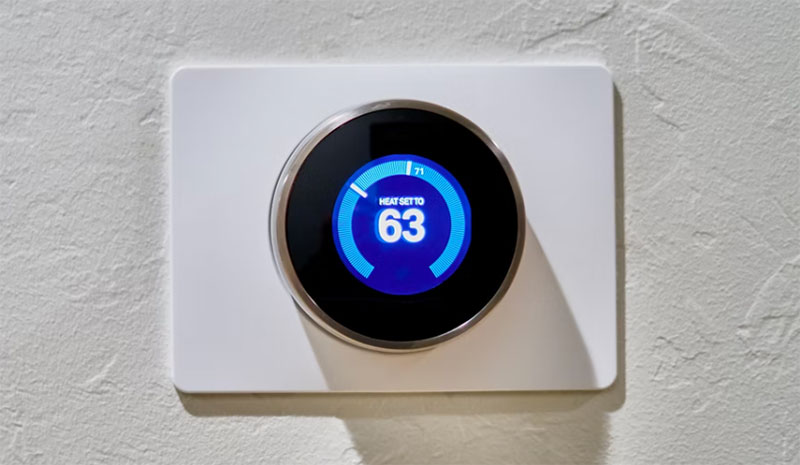 The Nest Thermostat is probably the most popular Smart thermostat out there. The cornerstone of this Smart thermostat is 'Smart Learning', a feature that fully automates it into an intelligent sensor that gets acquainted with your lifestyle in a week or two. It is also very easy to install and is a great purchase for homeowners with other Nest compatible devices like LiFX, Belkin WeMo, Amazon Echo and so on.
Pros
Easy installation
Cuts down 20-30% of energy bills
Shows local weather
Smart Learning
Can be used wired or with battery
Cons
Incompatible with Apple HomeKit
Short warranty
No room sensors
Even though Nest has never fully recovered from the corporate turmoil it had, it is still a force to reckon within the Smart thermostats market. Upon opening the package, I was impressed by the highly aesthetic design and a larger touchscreen display. I find it more attractive than all Ecobee thermostats especially the LED lighting. Having used both the Ecobee3 and its successor, I must say that the Nest offers easy installation and requires no major HVAC skills. If you want a Smart thermostat that is easy to set up, go for Nest and not Ecobee.
Also readThe big deal with Nest is the Smart Learning Intelligent system. Unlike most similar thermostats that will require you to be fully adjusting them manually, Nest is a fast learner and hence the name, "Nest Learning". After one or two weeks of use, it will be able to fully program itself depending on your previous common adjustments. Another talking point is Nest Leaf; a feature that notifies you whenever you are at the optimum energy saving setting. Unfortunately, it lacks remote sensors like in the Ecobee for a more precise and accurate reading. However, I can't complain much because it is very efficient and reliable in managing the HVAC system.
If you are keen on your energy usage like me, the energy saving history will give you more insights into areas you saved more energy and areas you can improve on. In fact, it is Energy Star rated. When testing it, my HVAC system had issues especially the cooling system. I liked the fact that it alerted me via the Smartphone App when there was a malfunction or when I needed to replace filters. When it comes to connectivity, Nest is compatible with Alexa. However, it sidelines Apple users as it doesn't support Apple HomeKit which is becoming very popular nowadays.
The Nest Learning is a superb Smart thermostat that learns your lifestyle and adapts to it. It is a great thermostat for those with very busy schedules and in areas with a fairly predictable weather pattern. If you want a self-managing thermostats that will do the work intelligently after training it, get Nest Learning.
Also reWhat Makes the Nest Different from Ecobee4?
Ecobee vs Nest are two renowned thermostat brands. Perhaps what makes them peculiar is their Smart innovation in the Ecobee4 and Nest Learning. Even though they share quite a lot, they remain two different Smart thermostats but serve the same purpose. In this segment, we are going to look at the differences between the Nest and Ecobee.
Perhaps the biggest difference between these two thermostats is the Learning function. While this intelligent feature is in the Nest, the Ecobee4 cannot program itself; you only get the temperatures you have set. This is one area I feel the Nest deposes Ecobee4 badly. However, Ecobee4 gets back to the Nest with the next feature; remote sensors. It is compatible with remote sensors which give accurate readings and make it ideal for homes with many rooms.
Even though these are the main differences, there are several other partial design and compatibility differences.
Nest vs Ecobee – What's the Best Smart Thermostat?
From my experience with these two Smart thermostats, I would pick the Ecobee4 anytime just because I saved around 25% of my normal energy bills while with the Nest, I saved around 20%. I feel the 5% difference was brought about by the accuracy of the Ecobee4 courtesy of remote sensors.
It works with very accurate figures and as you all know, in thermostats, accuracy is the magic. Even though it is dumb considering Nest has Smart Learning, I'd still go for the Ecobee; with it, huge energy savings are evident!